Attic Insulation Rochester MN
Professional Attic Insulation from a Trusted Company.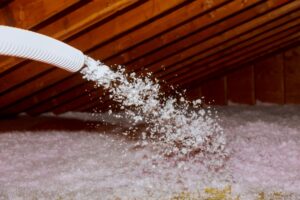 Bob's Construction is the best choice for Attic Insulation Rochester MN.  For the last 65 years Bob's Construction has been serving Southeast Minnesota for Windows, Siding, Roofing, Doors and Insulation. 
By choosing Bob's you are choosing a local company that is going to be around year after year.  Don't be fooled with fly-by-night companies or cheap "act-now" sales techniques. 
Bob's Construction always gives you our best price the first time.  No gimmicks, no tricks, just honest fair pricing.
The most cost effective ways to lower your energy bills.
Let our Attic Insulation Rochester MN make your home more energy efficient and comfortable.  When it comes to insulation, we carry the best.
Our professional insulation team can quickly and efficiently install top quality insulation in your home.  Not only does Bob's Attic Insulation improve the energy efficiency, our customers benefit from reduced outside noise and elimination of damaging ice dams.
Don't forget to ask your Bob's Sales Professional about current tax incentives.  As always, Bob's offers No Obligation Consultations.
Quality Products Means Happy Customers.
Bob's has not become a leader in Attic Insulation Rochester MN using inferior products.  By utilizing the highest quality in insulation, we are confident in doing the best by our customers.
Because, We know using the best products will provide our customers with the peace of mind.  Our goal is to keep you coming back for all your home construction needs.  CertainTeed Attic Insulation has been the leader in Attic Blown Insulation year after year.
Bob's is proud to offer CertainTeed's InsulSafe as our choice to improve the efficiency of your home.